Vee Packing, V Seal, V-packing, Chevron Packing, V-ring

V-Packings are multiple lip (chevron) packing sets designed to seal static, reciprocating and centrifugal applications. The male and female adaptors are used to complete a set of vee's and to assist in sealing when compressed.
The selection of fabric or homogeneous compounds should be made on the basis of operating pressure (as is true with the number of rings per set), temperature and the media being sealed.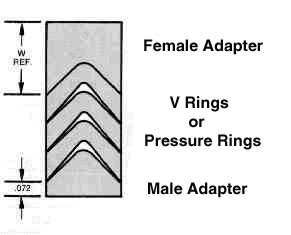 To obtain a complete set, Male, Female and the number of pressure rings you require to make up a complete set.